Dear Fleet,
Tomorrow marks the end of my second tenure as Fleet Commanding Officer. When I came back to the fleet after a short absence, it had ground to a halt, sims had left to find new homes and our community lacked some serious signs of life.

The last few years (has it been years? Feels like it.) have been challenging, but exciting. We've seen a renaissance, the creation of 3 unique storylines and we have grown to include 9 sims (if you include 2 subsims incorporated into Deep Space Eden). I thank each and every one of you for your contributions to Fifth.
Tomorrow at 12pm GMT, Stephen will take over the leadership of the group – having been instrumental in the creation of the Fleet Charter, and stepping up to XO the Fleet in an emergency – I know that he'll do great things during his first year directing the Fleet. I hope you'll all give him the support he needs to make The Fifth Fleet one of the premier Star Trek collaborative writing groups on the internet. He has asked me to stay on as Fleet Operations Officer, which I have accepted. I look forward to working with Stephen, and future Fleet XO Indi as we further grow the Fleet.
As my final official action as Fleet Commanding Officer, I'm announcing the creation of the 'Allexandra Timmis Award for Excellence in Storytelling'.
You may recognise this name, as it is named for our long lost friend 'Phishie' who was a prolific simmer in UCIP – the group that Versailles and USS Timmis left to form Fifth Fleet. While the USS Timmis (which took her name in memoriam), is no longer with us, this award will ensure Phishie is remembered for years to come.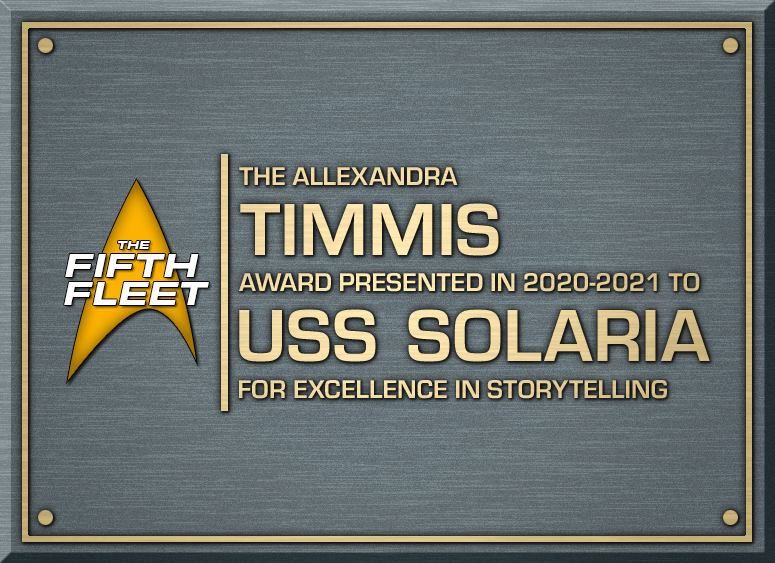 The Timmis Award is awarded every year by the Fleet Commanding Officer on the last day of February. It is awarded to the simulation, that in the opinion of the Fleet Commanding Officer, has created the 'best' stories over the previous 12 months.  There is no set criteria to this award, and the sitting Fleet CO can award it at their discretion. I have discounted any simulations that I am personally involved with.

I would like to  be able to award this to every sim in the Fleet. All simulations within The Fifth Fleet are creating excellent stories. Taking into account storyline settings, crew numbers and the pace at which each individual sims logs, for 2020 – 2021, I have decided to award the inaugural Timmis Award to the USS Solaria.   Not only have they created some fantastic reading material, but they've shown great consistency in logging.   Congratulations to Captain Stanton, Commander Pentac and the Solaria Crew. 

I look forward to the next year, were I'll be focusing on the USS Alliance, Deep Space Eden and my role as Fleet Operations Officer.

Sláinte,

Nixon
Fleet CO (Outgoing).